Frequently asked questions
Ozroll Industries are manufacturers and we only sell to the public through registered trade distributors. We do not deal directly with the public under any circumstances. We have thousands of Authorised Distributors around Australia. Search online to find Ozroll outlets near you, or click here to fill out an enquiry form and we can recommend someone for you.
Each brand within our product range holds a manufacturers warranty that is dedicated to our trade distributors. Any claims against this guarantee should be raised through the contracted retailer.
Details our Consumer Warranty Policy can be downloaded here.
If you wish to make a claim directly against OZROLL (the manufacturer) please follow the guidelines in the attached document.
Ozroll's external products are designed to withstand the Australian elements and general maintenance is minimal, however we do recommend a basic clean 1-2 times per year.
Spray the product with a mild detergent and then use a soft brush or cloth to wipe the shutters. Rinse the product with clean water and dry with a soft cloth or chamois.
Ozroll has invested in independent testing for all external products, however the specific details of each application should be considered for all compliance purposes. Please visit OUR BRANDS pages for more information.
If your control is an ODS Control 10
A Battery Replacement Kit (part #15.260.000) is available for the ODS Control 10 however we are no longer manufacturing the actual control itself.  The controller has been superseded by the E-Port 18650 control with a larger capacity and longer lasting lithium ion battery – I have attached some information for your convenience.  To upgrade to the new control the following components would need to be purchased:
15.600.001 – E-Port 18650
15.551.001 – E-Port Wallplate
15.551.002 – E-Port Wallplate conversion plate
If your control is an E-Port (15.500.001)
This controller has now been superseded by the E-Port 18650 (15.600.001) which has a larger capacity and longer lasting lithium ion battery – please see the attached information.  You will need to purchase a replacement.
If your control is an E-Port 18650 (15.600.001)
Click here to download LED Diagnostic test sheet to help determine the issue you are having with the control.  It is not always a battery issue but could be the control is in sleep mode, or has an error code from a power surge etc. We currently do not manufacture a battery replacement for this control as we have continuously made advancements for the battery with every series we manufacture.  You may have to purchase a new control.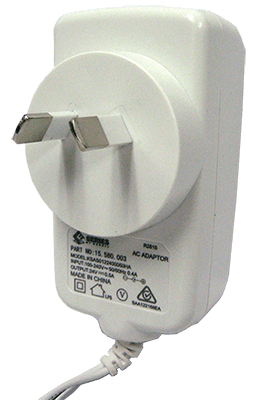 The batteries in the ODS Control 10 & E-Port controls require an AC Adaptor (15.580.003) to re-charge – like a mobile phone.  The AC Adaptor can be connected directly into the control or through the charging port on the base of your Wall-Plate. It can be purchased through an Ozroll Authorised Distributor.
The E-Port 18650 controllers do not lend themselves to automation as it is a portable power supply for a shutter.
Our distributors on average use one controller for every two shutters and move it between wall plates to make the installation more cost effective for their customers
So it doesn't make a lot of sense in the market we are in to automate as the controller needs to be moved to drive different shutters.