AUSTRALIA'S BIGGEST MORNING TEA
Ozroll Industries recently participated in our first Australia's Biggest Morning Tea to help raise funds for the Cancer Council. It was held in honour of colleagues past and present, family member or friends who have or currently are battling cancer and in memory of those who lost the fight.
The event was a big success due mainly to all those who donated, brought food to share, joined in the fundraising games and who helped on the day. The generosity and willingness to help from all was very humbling and touching.
The Ozroll Industries Queensland office also joined in and held their own morning tea managed to raise $84.00 with a few staff members also making personal donations.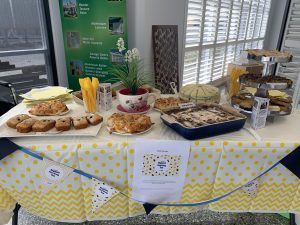 A delicious morning tea in the Qld office
Our sister company Acryloc raised money by charging a dollar a cup of coffee on the day – they have a very nice coffee machine that is popular with everyone!
We ran a couple of guessing games over 2 weeks as fundraisers – How Many Snakes/Fruit Chocs in the Jar. These games were very popular and hotly contested. The jar of lolly snakes was won by Amber North from the Ozroll Assembly team who guessed the exact amount of 89. Our winner of the Fruit Chocs was Greg Galbraith, Ozroll's Warehouse Supervisor who had the closest guess without going over the total count number of 199. Congratulations to you both.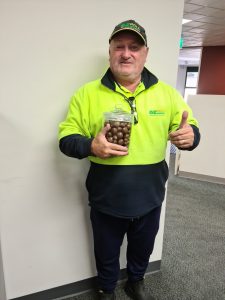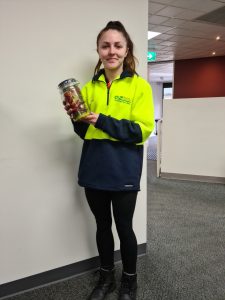 With the fundraisers, the morning tea and personal donations we have so far raised approximately a HUGE $800!!! We are very confident we will reach our target of $1000